Your location:
The Papier Mache Resource
→
Galleries
→
Michelle Schafer
Michelle Schafer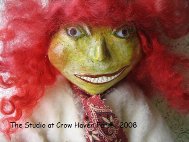 Welcome to Michelle's gallery! Simply click on the item that you are interested in below to see an enlarged picture and information.
Location: United States
E-mail:
Website: here
Introduction
I'm a self-taught mixed-media artist. I absolutely love working with papier mache, air dry clay and creating my Art Dolls and other mixed-media pieces. I've longed for the day that I could I just sit in my studio, turn Led Zeppelin on and just BE! I feel that whatever medium you choose to work with should be a medium that you connect with. Don't force your work, let it come to you, because it will when your not expecting it! Cheers to all of us that have chosen the artistic path and Cheers to those who are still searching!

Please visit my website at www.thestudioatcrowhavenfarm.com and for more current updates, please visit by Blog at www.thestudioatcrowhavenfarm.blogspot.com and let me know your thoughts! This new adventure is just beginning, and from here we can just grow even more!

I also have some online shops: www.crowhavenfarm.etsy.com
www.thestudioatcrowhavenfarm.artfire.com
www.thestudioatcrowhavenfarm.1000markets.com

I'm also a member of:
DAG www.darkartistsguild.blogspot.com
ADO - www.artdollsonly.blogspot.com



Cheers to ALL!
My gallery