Your location:
The Papier Mache Resource
→
About the site
About the site
My name is Jackie and I am fascinated by every aspect of papier mache. So many wonderful things have been made from it and it is one of the most amazing materials to work with - so simple and inexpensive to use.
To most people the term "papier mache" conjures up schooldays - dolloping a mixture of newspaper and flour paste onto a flowerpot. To those of us in the know, it has limitless qualities as an art form.
I have been interested in papier mache for many years, but only started working with it after an artist friend, John Gale gave me the encouragement to try it. Although not a material he worked with himself, he gave me the confidence and inspiration I needed. Very soon I was hooked on working with papier mache and I realised that this was the medium for me. Since then I have gone on to write papier mache craft ideas for magazines.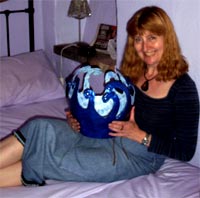 I found little information on the internet so I decided to start up my own website. I wanted to pass on that inspiration to others and make a colourful site that everyone could enjoy.
I have been influenced in my work by such artists as Clarice Cliff and by Mexican art which I fell in love with after visiting Mexico. I love bright colours and bold forms.
If you would like to ask a question about papier mache or share your experiences with others, just register on the forum and join the friendly and helpful papier mache community.
Please take a look at my gallery where I show some of my favourite pieces.