MAGILL FAMILY "ANKH".. MASK..Close up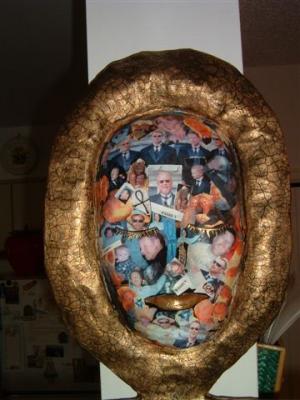 Details
A closeup view of the Mask Face!!!
This Mask was a commission for a friend...But the design was a total surprise...
I used the Egyptian symbol of the "ANKH"....because it means "LIFE"...so the mask can be called also "MAGILL FAMILY LIFE"
The family photo's on the mask face gives this mask a very personal touch!...(This design is copyrighted)
The family are Jewish...so I placed a Jewish Star in the center where ANKH crosses and I surrounded the star with Swavorski Crystal Rhinestones...nice and Sparkley!
Mask Made from paper pulp and layered paper....Ankh is all layered paper!--The Paint design has been Antiqued..and crackled...but it does not show up in photo!
Enjoy, viewing my work!......Thank You!
Add a comment